Hardships and Temptations:
Jesus Had Them and So Will True Christians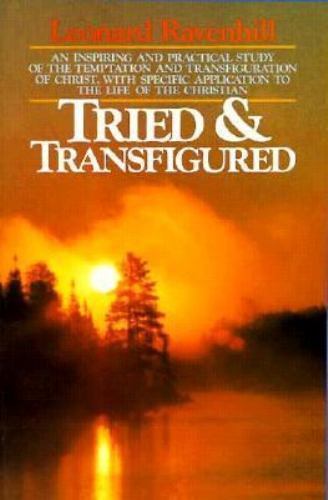 This book is broken up into two main parts. Part 1 is about the temptations of Jesus (hence the word Tried or trial in the title); and Part 2 is about the transfiguration of Jesus (hence the word Transfigured or sanctified with Spirit-baptism in the title). Most of the book is a Bible study about these experiences in Jesus' life; and explaining what they mean. But occasionally the suggestion is drawn that Christians are to expect the same things in their own lives, in different ways. Ravenhill advances the thesis that true Christians, who are reflections of Jesus, will go through both trials (painful hardships) and temptations (pleasurable, sinful seductions) in order to prove the genuineness of their faith in God. 1 Peter 1:6-7: "In all this you greatly rejoice, though now for a little while you may have had to suffer grief in all kinds of trials. These have come so that THE PROVEN GENUINENESS OF YOUR FAITH—of greater worth than gold, which perishes even though refined by fire—may result in praise, glory and honor when Jesus Christ is revealed." Ravenhill said, "Gold tried in a fire is of greater value than gold which still has a mixture of alloys. Gold that is shaped into an ornament has yet more value. Of still higher worth is gold purified, then shaped into a vessel, and finally beautifully engraved" (p. 64). I also think about Job 1:8-12, when Satan himself was allowed to test Job's faith with hardships, in order to prove to the spirit world that Job feared God with no strings attached.
All kinds of trials. When thinking about Jesus, he refers to Jesus in the desert for 40 days, fasting, hungering, starving, getting challenged by the devil to make bread out of stones in order to prove to Himself that he was the Son of God (implied was a suggestion to Jesus that he was not the Son of God but illegitimate), to throw Himself down from the temple and see if the angels would come and levitate Him, and to seduce Him with worldwide religious and political authority if He would only bow down and worship the devil—perhaps an appeal to follow Roman religion and have influence in the Roman empire as a chief magician, like Jannes and Jambres were for Pharaoh (Exod. 7:22; 2 Tim. 3:8).
With each demonic vision or voice, Jesus appealed to the authority of Scripture, saying, "It is written" (Matt. 4:4, 7, 10); and after the third time "the devil left Him, and angels came and attended Him" (4:11). The angels would have come to strengthen His faith. Even Jesus needed to live by faith, because He lived as a man. So, after proving His spiritual strength by conquering bodily cravings, by shunning the vanity of materialism and earthly authority, by placing His faith verbally in Scripture all by Himself in isolation from other people, by rejecting the Dark Side of the Force and Satan's lure to become the next Darth Vader, and by overcoming the devil in the desert unlike Adam had in the Garden—Jesus proved to the spirit world that He had authority over all evil spirits: even over Satan himself. Before the desert, there is no mention of Jesus casting out demons. But afterwards, it happened almost constantly for three years until He was crucified.
The Transfiguration:
Baptism in the Holy Spirit, Empowerment to Face Even Greater Trials
When we come to the transfiguration part of the book, which is longer, we see different themes touched on. In its Introduction, conditional security is mentioned: the possibility of backsliding after mountaintop experiences with the Lord. Peter denied Jesus three times after he saw the transfiguration of Jesus (his body shining with the bright white light of the Holy Spirit), and Moses, Elijah, the bright white cloud of God, the audible voice of God, falling into a trance, feeling the fear of God (Matt. 17:1-9). Even after all of that, Peter still weakened and buckled under pressure when his life was threatened. The moral of the story is that spiritual highs in the present are no guarantee against losing your faith in the future. Salvation is by faith (Eph. 2:8); so much for the doctrine of once saved, always saved! We must keep ourselves in check, God helping us. 1 Corinthians 10:12: "So, if you think you are standing firm, be careful that you don't fall!" Biblical scholars generally date the transfiguration one year before the crucifixion. So, after this extremely supernatural experience of God, it took about one year for Peter to backslide to the point of denying Jesus three times, when threatened with martyrdom (Matt. 26:69-75).
I was pleasantly surprised to see Ravenhill favorably refer to Evelyn Underhill's The Mystic Way on page 81, a 400 page book on Catholic mystical theology from an Anglican perspective. At first I was a little concerned, because in her book Mysticism, she takes a pluralistic approach, mixing the religions, but in the one quoted by Ravenhill, it looks like she had cleaned up her theology and only turned to sources like Catholic saints. It was about how contemplation can lead to transfiguration or even encounters with the shekinah glory (light of the Holy Spirit): St. Francis of Assisi and St. Catherine of Bologna are mentioned as examples. I recently wrote about this in my booklet on Supernatural Lights, drawing from Alexander Golitzin's St. Symeon the New Theologian: On the Mystical Life, vol. 3, where he shares at length about the role of shekinah glory in the life of this Greek Orthodox saint. Foreign sounding to Baptist, Pentecostal, Lutheran, Presbyterian, and other Protestant ears, but it begs the question of whether they are missing out on something due to a theological blind spot.
When referring to these mountaintop or transfiguration-like experiences, he brings it down a notch for the rest of Christianity. Not everyone is like St. Francis of Assisi, not everyone is literally going to light up like Jesus or Moses did. (Why not!?) But seriously, though, there are lower level experiences from the Holy Spirit that can follow the same pattern, following periods of trial and temptation, only to be followed by worse ones later on. Ravenhill said:
Christ's glory-baptism on the Mount must have been a special means of ministry for His soul's fortification. This was the entrance to a future, gloomy tunnel of soul-strain that led to the waste places of the valley of humiliation. It was a special anointing for service…Christ had this glory-baptism, this unique anointing of majesty on the Mount of Transfiguration. It was a gateway through which He began to tread the Via Dolorosa (pp. 127-128).
In other words, His transfiguration was a supernatural empowerment of confidence and divine protection, to energize Him for the greater trials that lied ahead (Matt. 17): namely, negative repercussions from cleansing the temple, persecution from politically empowered Jewish leaders in Jerusalem, Gethsemane where He sweat blood, Judas Iscariot's betrayal and suicide, kangaroo court proceedings, mockery from Roman soldiers, the crown of thorns, Peter's denials, beatings, scourgings, His crucifixion (definitely that), and knowing that most of His disciples did not believe He would rise from the dead (Matt. 21-28). Ravenhill also saw the transfiguration as a kind of baptism in the Holy Spirit, without speaking in tongues: and no doubt, it was: the glory cloud of the Holy Spirit was permeating the atmosphere to where you could both feel it and see it! All of them were Spirit baptized in a sense, but especially Jesus, since He shone with light. It might have been the greatest Spirit baptism He ever experienced. But by the time He's on the cross a year later, He couldn't feel God's presence, and He cried, "My God, my God, why have You forsaken Me!" (Matt. 27:46). No presence of God was felt on the cross. It seems that the transfiguration baptism had all dried up by then. By the time of Gethsemane, just before the crucifixion, He needed extra encouragement from an angel (Luke 22:43). But He got there. Jesus didn't run away, even though God told Him through Moses and Elijah what He wanted to happen. Luke 9:30-31: "There talked with Him two men, which were Moses and Elijah: who appeared in glory, and spake of His decease which He should accomplish at Jerusalem." Does it look like I'm presenting an all-too-human Jesus to you? How human can you get…dying on a cross. That is one of the most humiliating ways to die. Compare that with the way the Pharisees probably died: with honors and respect, as rabbi-saints, respected in the community, lying on their deathbeds, blessing and prophesying to a group of loving admirers. Not Jesus. He died with probably nothing more than a loin cloth on His body, with shredded skin and muscle tissue hanging out, with huge holes in His hands and feet, gasping for His final breaths while thugs laughed at him. Jesus was and is the Son of God, but He lived as a human being and was "tempted in every way, just as we are—yet He did not sin" (Heb. 4:15). He was the Son of God yes, but he was also the Son of Man (through the virgin Mary), and that is what qualifies Him to be a mediator, or middleman, between God and humankind. But this same Jesus definitely needed encouragement from the Holy Spirit, the voice of God, saints from Heaven, and from angels sometimes! And SO DO WE!
I disagree with Ravenhill's doctrine of entire sanctification in ch. 16, which is what he thinks the transfiguration symbolizes for the life of the believer. On the contrary, I think it more so symbolizes what we have in Acts 2:4: "All of them were filled with the Holy Spirit and began to speak in other tongues as the Spirit enabled them." The presence of God part, more so than the tongues part, but they aren't mutually exclusive now that we live in the Pentecostal age. But along with Wesley and all the confused Methodists and holiness people who hold to entire sanctification, Ravenhill at least said that backsliding from perfection was possible, which to me, nullifies the entire claim of the doctrine: "I am not inferring that this endowment is a kind of perpetual nonforfeitable" thing (p. 143). Well, then brother Ravenhill, I would say then that although God is omnipotent, the flesh will always remain sinful (Rom. 7:23), and only physical death will eradicate bodily sin entirely (glorification). There is no entire sanctification before death. However, SPIRIT-BAPTISMS should be the focus, because it is SPIRIT-BAPTISMS, or FEELING GOD'S PRESENCE that strengthens our faith and resolve to fight sin, when things get dry. And how do we get them? They are "maintained only by prayer and close submission to the will of God" (p. 143). Pentecostal praise and worship is a form of prayer. Bible study and faith-based obedience to Scripture is the best form of submission to God that I know of. James 4:7: "Submit yourselves, then, to God. Resist the devil, and he will flee from you."