Have no fellowship with the unfruitful works of darkness, but rather expose them.
–Ephesians 5:11–

You must not associate with anyone who claims to be a brother or sister but is sexually immoral or greedy, an idolater or slanderer, a drunkard or swindler.
Do not even eat with such people.
–1 Corinthians 5:11–
In light of recent extremely negative findings about Todd Bentley and Rick Joyner, (underlined links can be clicked for further information,) I would like to present this list of ministers currently associated closely with their ministries, Fresh Fire USA and MorningStar Ministries, respectively. And for myself and other Pentecostals who want the "real thing," to be wise to avoid them…
FRESH FIRE USA MINISTERS – taken from freshfireusa.com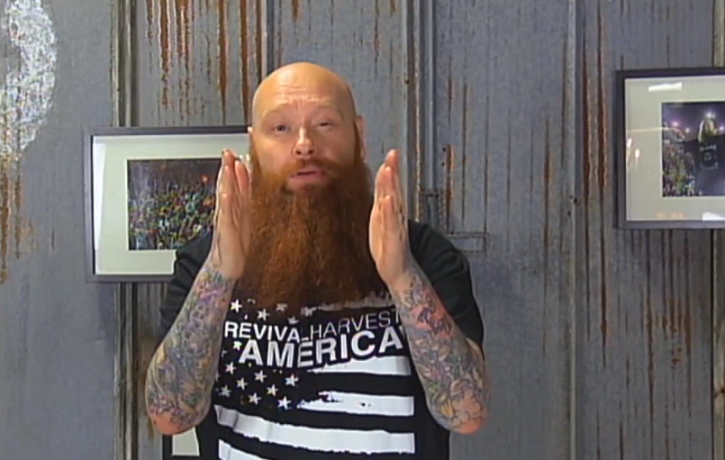 1. Todd Bentley
2. Pete Garza
3. Peter Garza
4. Travis Potts
5. Rick Joyner
6. Kevin Basconi
7. Doug Addison
8. Andrei Baicus
9. Timothy Snodgrass
10. Westley Roderick
11. Adam Thompson
12. Adrian Beale
13. Fiorello Giordano
14. Charlie Shamp
15. Alex Parkinson
16. Brad Elijah
17. Tito Caban
18. Kat Kerr
19. Robbie Dawkins
MORNINGSTAR MINISTRIES MINISTERS – taken from morningstarministries.org
1. Rick Joyner – greasy grace contradicting the Pastoral Epistles (1-2 Timothy and Titus).
2. David White – this MorningStar Ministries pastor took a stand against Bentley (he might be looking for a new ministry position):
A Response from David White on
the Revelations Surrounding Todd Bentley
Change Your Conduct or Change Your Name!
(Where Judgment Must and Will Begin)
Numerous leaders have written public statements, posted online video messages, tweeted, etc., regarding the exposure and subsequent response to the reports of sexual immorality committed by Todd Bentley.
R. Loren Sanford, Patricia King, Rick Cantor and others have done a great job helping the body of Christ deal with what again has shaken and brought shame and confusion to a large segment of the church. There is no doubt this has and will have world-wide implications. Once again we have discovered how the faith of some of the most impressionable has suffered and in some cases was overthrown because of unchallenged, unexposed and unrepentant sin among those who are called to live a life beyond reproach.
As mentioned Sunday, Stephen Powell had what he described as a "courts of heaven encounter" while he was with us in Moravian Falls at the beginning of June. In Stephen's encounter he saw in a dream what Todd was currently facing and what was at stake. Almost immediately after his leaving, Stephen began to be approached by some whose lives and faith had been shaken by their personal experiences involving Todd Bentley. It was obvious God had given Stephen a mission.
Expressing great concern and grief for the ones whose faith had been overthrown, (by those in leadership) who had (themselves) strayed concerning the truth, the Apostle Paul under the inspiration of the Holy Spirit declared, "Nevertheless the solid foundation of God stands, having this seal: 'The Lord knows those who are His' and, 'let everyone who names the name of Christ depart from iniquity' (2 Tim 2:19). In other words the Lord was saying then and He is saying to those in leadership and of influence in the church today to "change your conduct, or change your name!" Someone's character and personal integrity is far more important to God than his or her gifting, popularity and position.
I have mentioned before about a young man named William I believe has an amazing calling on his life. He currently lives in Bogota, Colombia but believes God is leading him and his wife to one day move to Moravian Falls. He is a powerful and anointed young preacher who is not afraid to sound the alarm calling those who say they believe in Jesus to a life of purity and holiness. He is one of my spiritual sons and one of many young men, like Stephen Powell and others, God is raising up to shake nations as well as the status quo in this hour.
I want to share a dream William recently sent to me. It is a wakeup call to all of us, but especially to those in positions of leadership in the church at large. It is a further reminder that Jesus is not coming for a bride in bed with the world, but one that has made herself ready and is without spot or wrinkle. Additionally the dream confirms how we should remember how Numbers 32:23 confirms that all of us can "be sure your sin will find you out." It is much better our sins be found out, confronted, exposed and dealt with (full repentance) now in this life than at the judgment to come. Judgment beginning in the house of God can actually be redemptive if responded to correctly. In Todd Bentley's case, it is a testimony of God's love for him and can literally save him from eternal destruction.
"Blessed are those who do His commandments that they may have the right to the tree of life, and may enter through the gates into the city. But outside are dogs and sorcerers and sexually immoral and murderers and idolaters, and whoever loves (covers up or excuses) and practices (participates in) a lie" (Rev 22:14-15).
William's Dream:
During a dream on August 9th, 2017, I saw a huge stadium with millions of people. The seats were divided into areas and every single seat was reserved but one specific area. This area caught my attention because it was empty and dirty. In the dream, I proceeded to ask the Father why that area was empty. He replied, "THOSE SEATS WERE FOR MY MESSENGERS, BUT THEY ARE NOT HERE." I started to cry and weep while a great burden was released within me. Then God said the following, "THEY SPOKE WORDS I NEVER SAID, THEY PREACHED ABOUT HOLINESS AND REPENTANCE WHILE SINNING IN THEIR ROOMS. THEY ASKED ME TO SHOW UP BUT THEIR EYES WERE NOT PURE. THEY KNEW WHAT THEY WERE DOING BUT THEY DID NOT REPENT. WILLIAM, BE HOLY AS I AM." As soon as I heard this in the dream, I woke up just like (Daniel 10:8-9), I had no strength remaining and I fell on my knees with my face on the ground, asking God for forgiveness and cleansing.
If you missed the Gathering this past Sunday, I touched on some of what I believe the Scriptures teach about "Judgement in the House of God." I hope this word, (see the link below), helps us understand and gives hope for what God is saying and doing in this hour.
As a pastor, and for further study and understanding, I encourage you to search the Scriptures on your own. Find out what God is saying to you through all that has and continues to transpire before the entire world. Read where the Bible refers to the workers He approves and those He disapproves. Look at 2 Timothy 2:14–3:9. We can no longer be more influenced by what Paul calls in this text, "idle babblings" or the rants of men than we are by the Word of God. God's Word still has the answers to every question any generation will ever ask.
To watch the message in its entirety CLICK HERE!
Together in Him,
Pastor David
—
…BUT EVEN WITH ALL OF THIS, IT MAKES YOU WONDER HOW RICK JOYNER'S NON-JUDGMENTAL APPROACH TO ALLEGATIONS ABOUT TODD BENTLEY FOR YEARS HAS LED TO THIS OUTCOME. JUST TO BE SAFE, I WILL CONTINUE TO LIST RICK JOYNER'S MOST RECENT MINISTRY ASSOCIATIONS…
3. Tom Hardiman
4. Bobby Conner
5. Dave Yarnes
6. Lance Wallnau
7. Jerry Boykin
8. David Noland
9. Jennifer Heidel
10. Rafael Fidelis
11. Gary Keesee
12. Rick Eldridge
13. Rob Robinson
14. Leonard Jones
15. Marc Nuttle
16. Wellington Boone
17. David Vallier
18. Luke Laffin
19. Lou Engle
20. Daniel Kolenda
Once again, as in 2008, Patricia King has taken a stand against Todd Bentley's ministry; and I can thank God for that.